Yes, you got it right. We are proud to say that we got not one, but two great badges from a very renowned software advisor i.e. FinancesOnline. FinancesOnline has awarded us the "Rising Star" and "Great User Experience" awards. It has recently recognized our efforts to provide clients with an unparalleled intelligent business chat software that combines the power of both intelligent chatbots and human focus.
FinancesOnline is one of the fastest growing business app discovery platform with monthly 2.2M active users which uses this directory to find top B2B Solutions. It helps users to search for any B2B or SaaS solution and get the detailed insights. This platform lists the detailed product review and helps in comparing the different options. With the help of the ratings & reviews, one can select an efficient solution.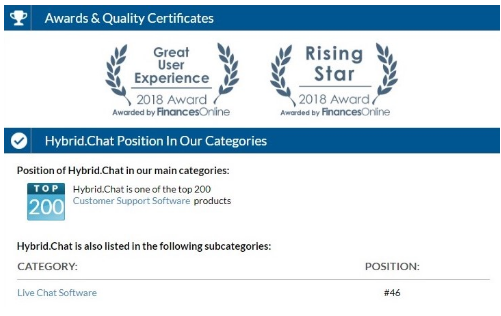 As thousands of the live chat software solution-seekers directly hinges on the review-platform of the FinancesOnline, we have received these two awards with great honor and enthusiasm.
In addition to that, in a study by FinancesOnline, Hybrid.Chat has been ranked in their list of best live chat tools for small business with a whopping 8.0 rating out of 10, which indicates that the Live Chat Software is definitely in the ballpark.
They have evaluated Hybrid.Chat pricing, core features, and other elements and provided a rating based on their findings.
Getting such prestigious awards is like a milestone when it comes to goodwill and brand awareness among the Live Chat Software industry.