Chatbots that provide conversational experiences are revolutionizing PPC marketing. Businesses are using Chatbots to provide visitors to their landing pages with novel ways of interaction. Moreover, by providing personalized experiences and content to visitors, chatbots can improve conversion rates of your PPC campaigns.
Traditionally, optimizing PPC campaigns involved creating variations of landing pages aimed at different segments of the target audience. Instead, now businesses can use one chatbot on their landing page to provide unique content to visitors. Chatbots do this by asking visitors questions. Based on the answers, the chatbot can guide users down a personalized path, conversationally. Apart from this, there are several more benefits of using chatbots in PPC campaigns.
In this infographic, we look at the 6 reasons you need chatbots for PPC campaigns.  Additionally, we go over some stats that show the advantages of using chatbots for landing pages to help you supercharge your own PPC campaigns.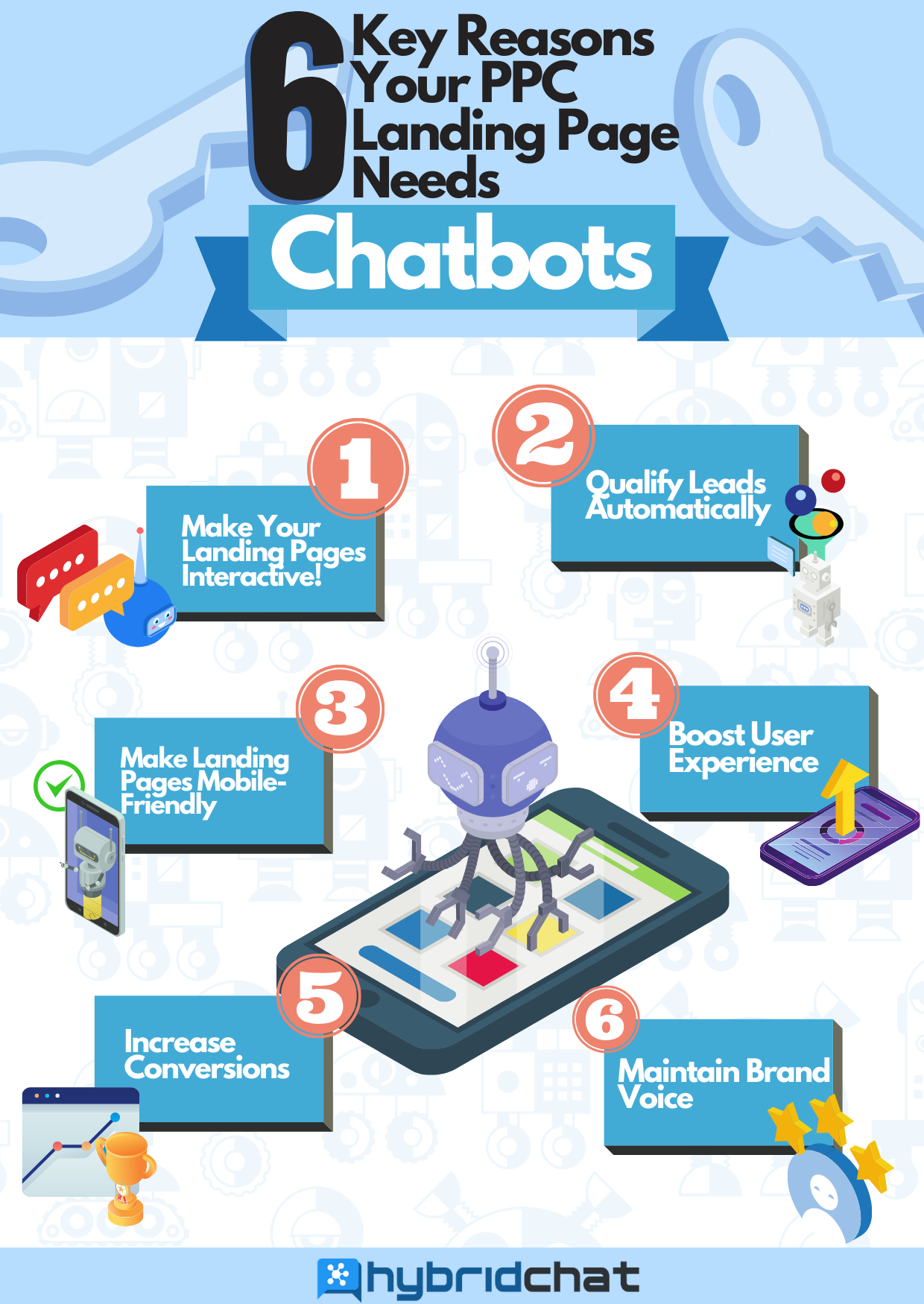 When used on landing pages, chatbots can:
Improve Conversions
Offer interactive experiences to visitors
Qualify leads automatically
Make mobile-friendly landing pages
Improve the usability of your landing pages.
Maintain Brand Voice through consistent messages.
In conclusion, chatbots on landing pages have better response rates than traditional landing pages. Moreover, they represent an opportunity to increase conversions while providing great conversational experiences. Additionally, chatbots can be programmed to handover the conversation to a human to optimize the customer journey when needed.
To get started with creating a chatbot for your PPC landing pages using Hybrid.Chat, here. Or, you can check out the conversational experience offered by such a chatbot, here.