Customer service is the backbone of any business and off lately, the focus is shifting to build incredible customer experience. There are various ways in which a brand can connect with their customers to provide impressive service. One of the emerging ways is using a chatbot. There are various popular chatbot use cases that have proven the effectiveness of chatbots in different industries. In this article, we will cover the various use cases a chatbot has in a myriad of industries like marketing, healthcare, education and support, etc. Let us dive in!
What is a chatbot and why do you need one? 
A chatbot is a software application that can simulate a conversation with the customers on websites, mobile apps, and messaging applications. It is an advanced expression of interaction among humans and machines that has facilitated communication immensely. A chatbot leverages Natural Language Processing (NLP) and it has various chatbot use cases. 
Chatbots are important because they streamline the interactions between the customer and the company. Likewise, they also enhance customer engagement and reduce the operational costs of a customer service center. Moreover, with an approach of Human + Bot, a chatbot essentially automates conversations with timely human intervention. That being said, let us see the applications of a chatbot in different domains.
Chatbot in Customer Service-Answering Questions and Queries
Let's say that a company is organising an event which they are promoting through their marketing endeavors. Before the event, the customers have a lot of questions for which they connect with the customer support team. If the target audience is less than 50 then the entire team can handle all queries. But what if the number of invites sent is 10,000? In such a case, providing quality support to all of them is very difficult. 
Chatbots can come in handy in such instances by providing 24*7 assistance and instant reply to all inquiries. The customer support team can create a list of common questions that can be asked for the event. Then, by feeding the bot with its answers, the team can automate customer service.
Customers might have questions like:
How do I buy the tickets and what is its cost?

Why should I attend this wedding?

Who will be addressing the event?

What is the venue for the event?
The chatbot set up literally takes a few minutes and it can be added to the webpage or the app made for the event. This works wonderfully for both the business and customers. The company does not have to hire a big team for answering all the customer questions and the bot gets the job done. Meanwhile, the customers also get an instantaneous response, without having to wait for being mapped to an executive. 
Getting a timely response to all questions plays an important role in the purchase decision of the customer. Click To TweetIf you clear all of their doubts right away, they would feel empowered to buy the tickets. By the time you map them to an executive, they might already lose interest in the event or get distracted due to something else. Likewise, chatbots can be immensely helpful in customer service across all industries. It reduces the response time, improves customer delight, and ultimately generates more traffic. 
Chatbots in Recruitment 
Recruitment chatbots are soon picking up the pace and making its way to the mainstream. They serve as a virtual assistant of the recruiter by performing a preliminary recruitment process. The bot helps in screening candidate applications so that the recruiters don't have to go through endless applications manually. After the bot screens the potential candidates it then qualifies them for the next round. Recruitment chatbots can also schedule interviews and answer candidate questions regarding the profile and company. 
It streamlines the entire recruitment process and makes it faster and more efficient. Recruiters can focus on personal interviews and further rounds as the initial screening is done by the bot. The candidate experience improves and the productivity of the recruitment team gets a boost. One such bot is Mya that focuses on recruiting millennials through a chatbot. No wonder it is one of the emerging chatbot use cases. 
Chatbots in Retail: Order Confirmation and Tracking Shipping 
There are various chatbot use cases in retail. A beautiful example is the order confirmation and tracking feature. After customers buy a product, they want to know when it will be delivered to them. Generally, customers have to follow a tedious process wherein they should check their email address for the shipping id. Then they need to go to the website of the delivery service and enter this shipping id. 
This can be very daunting and equally time-consuming which is why customers love a rather straightforward approach. Deploying a chatbot can solve this problem. It can instantly provide the customer with the shipping status and expected date of delivery. Customers don't have to run around switching between websites and saving customer ids. All they need is a simple online chat. When the bot takes up such repetitive tasks, the customer support team can focus on more complex problems and concerns. 
Chatbots in Sales: Lead Generation for Businesses
A lot of companies focus on improving sales and converting leads to boost their revenue. They hire individuals who can capture the cold leads (prospects who might turn into customers). For instance, someone visiting the official website who gets intrigued by the products/services. Or someone who enquires about service and is showing interest in the same. The customers at this stage are called cold prospects. 
On the other hand, warm leads are the people who have some interest or awareness about your business. These are the people who visit your website actively or spend time on your product's page. These prospects are more likely to engage with you and hence are more approachable. A chatbot can be instrumental in getting in touch with visitors and answering any questions that they may have. The chatbot can be taught to ask sales-oriented questions that will get the customer interested in your offerings. The conversation should ideally end with the customer taking an action in their buyer journey.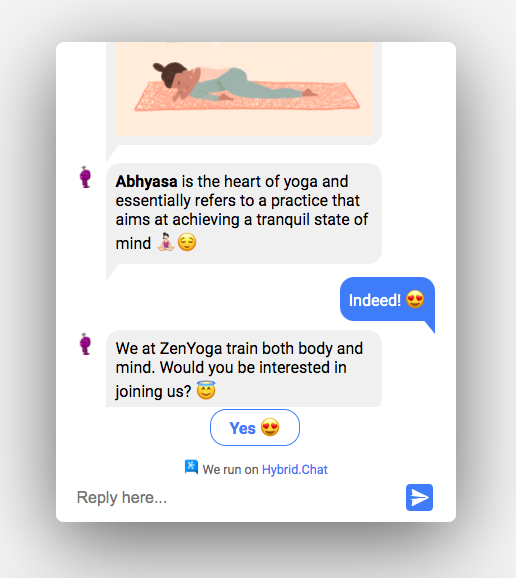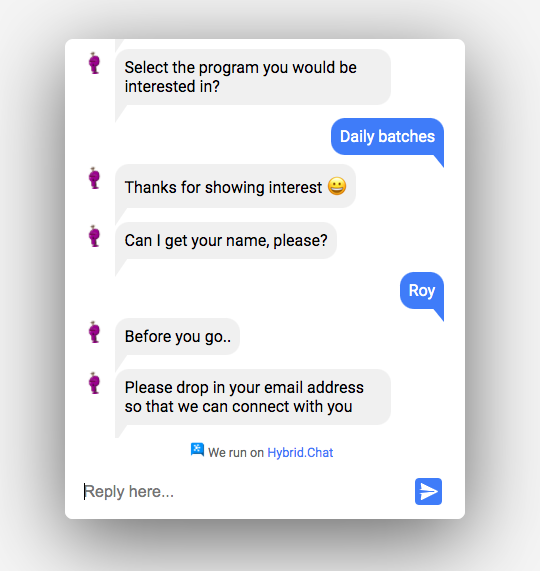 For instance, the bot template here is for a yoga class provided by a yoga studio. The brand uses a chatbot to capture potential leads and turn them into customers. With simple conversations, the bot conveys the various types of classes offered by the studio. Moreover, it also captures the personal details of customers like their name, email address, and phone number. This is an example of what a chatbot can do in the sales segment for generating new leads. 
Chatbots as Personal Shopping Assistants 
One of the popular chatbot use cases is personal shopping assistance bots. Modern customers like to do a thorough research of the products they would like to buy. They won't view a product and add it to the cart right away. They like to know what variety and colors are available and which size will fit them the best. Plus, if they have any specific requirements, they would like to get it checked before moving ahead in their purchasing journey. While they are at it, they want responses that are quick! Otherwise, they would simply move on to some other service provider.
If it was not for the chatbots, companies would need to hire employees, provide them with the tools to assist customers, and invest a lot in their sales team. Click To Tweet Moreover, the expenses needed also depend on the number of customers being served. So if you have a lot of customers who need assistance at the same time, then the customer service goes haywire.
Thanks to marketing automation, chatbots have the ability to gauge the meaning of keywords and provide a 24/7 customer service. It can provide product specifications along with product suggestions based on the previous history of the customer. And this is exactly what has implemented. Their chatbot provides information about style guides, product pricing, and the like to enhance the shopping experience of customers.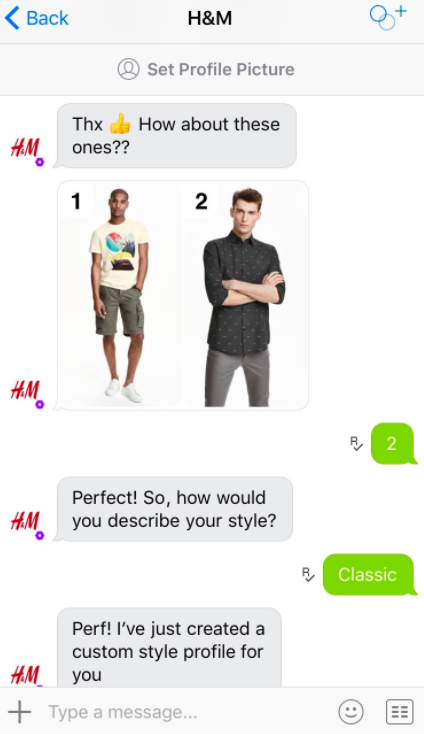 Any company that wishes to provide the customers with digital assistance can use the chatbot for fast and effective help. Chatbots will not only cater to the varied needs of customers but will also increase sales. This is one of the captivating chatbot uses. 
Chatbots in Banking 
Banking has been one of the industries that adopted chatbots early on. Personalized banking experience is every customer's dream. Not having to go to the bank to get most of their solutions is indeed very appealing. Right from accessing bank statements to transferring funds and getting the right investment advice, there are too many possibilities. Along the same lines, Bank of America launched a bot named Erica and HDFC launched EVA bot. They mainly focused on providing customer service through conversational marketing. 
Besides, there are other tasks that banking chatbot use cases can do. For instance, review and analysis, password management, IT ticketing, and employee management. Certain circumstances require instant resolution such as personalized marketing. Some of the renowned banks that are using chatbots for boosting their business are Bank of America, JP Morgan Chase, and Capital One. Click To Tweet
COIN is a chatbot launched by JP Morgan Chase that manages back-office operations. With the right industry nuances including the legal jargon of the law, the bot does it all. The chatbot will analyze all documents that are very time-consuming for humans.
Chatbot in Hospitality 
Hospitality is also one of the popular chatbot use cases that have been dominant. The best ai chatbot acts as a personal travel assistant and a travel concierge that helps people in building exciting itineraries. Chatbots provide round the clock assistance for building customer satisfaction and loyalty. It caters to the evolving needs of customers and the dynamic nature of customer behavior.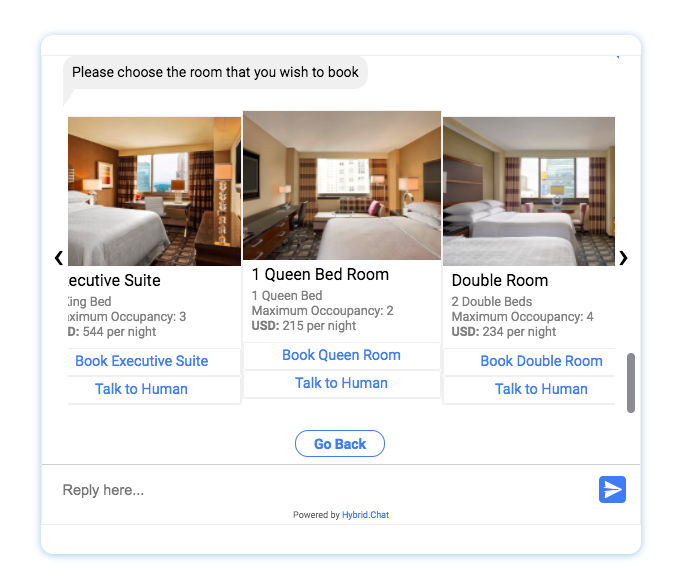 Hybrid.Chat has created bots that can help customers in booking a room at a hotel through simple conversations. As shown above, the bot engages customers with a quick chat and understands their requirements. Then they present them with options that the customers can choose from. This could be the type of room that they might be interested in and the number of days they would like to stay in the resort. The chatbot also captures the personal details of the customers and stores them in the records for future follow-ups. The customers can easily connect with the hotel and book a room of their choice. They can also tell about their choice of stay and the kind of ambiance they are looking for. Likewise, if they have any special requests, they can convey it to the hotel administration so that it can be accommodated.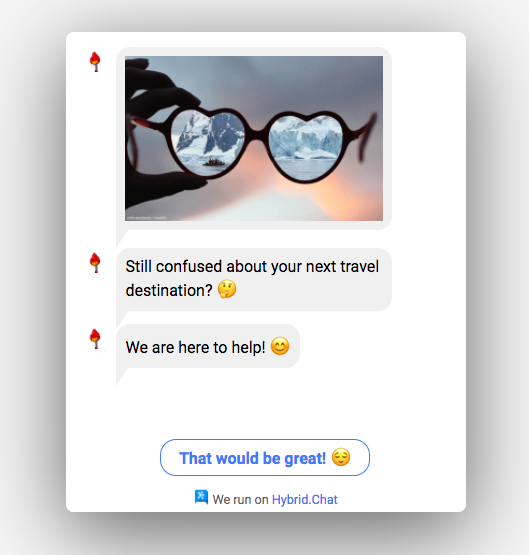 Besides hospitality, the bot can also help with planning the entire trip. For instance, asking the visitor the type of location they want to visit. The bot also asks about the number of passengers visiting and the way they want their trip to be. The customers can quickly connect with the bot and chalk out a plan for their next visit. They no longer have to visit the brick and mortar office of the company and can make travel decisions with the assistance of the bot.
Chatbots help in collecting customer feedback 
The success of a business is decided by its customer service and the great products they create for the customers. And customer feedback plays an important role in the whole process. Sadly enough, getting the right customer feedback is not always feasible. Majorly because nobody likes filling out long survey forms. They have to click on a link which they usually get through an email. Out of several customers, only a few of them have the time to provide genuine feedback. Owning to the busy lifestyles and tedious process of filling survey forms, it indeed becomes difficult to get the right feedback from the customers.
Traditional surveys have an open rate of a mere 10% and less than 5% of the customers complete the surveys. Moreover, no matter a business requests a customer to fill a survey, it certainly needs a lot of effort and they wouldn't fill it genuinely unless they are loyal to the company. The company should take in the effort to make providing feedback an easy process. This is when chatbot applications in business shine. Chatbots can be instrumental in collecting feedback from the customers. As per research, over 34% of customers feel flustered when they don't get the answers to their questions.
Chatbots also generate a lot of engagement due to its informal conversational nature. Click To TweetThis makes people complete more surveys thus creating a win-win situation for both customers and the company. Moreover, the customers don't have to type anything and only need to choose from the given options. And with the use of images, videos and GIFs the questions become even more fun to answer. Thanks to the way chatbots present the survey, customers are more engaged with it.
University Chatbots for Aiding Admissions 
College admissions can be very tedious when there is a lot of paperwork as well as formalities involved. Students have to visit the university and spend several hours to complete the admission process. Not only is it time-consuming but also very tiring. A chatbot can automate the registration process and the student simply has to answer a bunch of questions and enter their personal details. Even while enrolling for a course, they no longer have to wait for the university website to load and to navigate to the course landing page. The chatbot can be placed on the website homepage with the option of enrolling for the upcoming courses. All course information can be depicted on this chatbot and students can learn about it conversationally.
While considering a course/degree, students have a lot of questions which they would like to get an answer to. Reaching out to the college staff is not always feasible and the timings can also be a major factor. A great way to solve this problem is to answer the commonly asked questions via a chatbot. When the students get answers to their queries, they feel more confident about enrolling in the course. Lastly, the total expense of interviewing students in person and paying the staff for handling admissions drastically reduces, and the admissions are also done faster. Likewise, there are various other advantages of using chatbots for university admissions.
Chatbots in the Healthcare Space
Healthcare is one of the most underrated chatbot use cases. It seems like a profession that is too nuanced to be automated. And it is understandable, given the depth of knowledge it takes for a medical professional to help a patient. But several operational activities are repetitive and tedious which can be automated with the help of top chatbot use cases. For instance, booking an appointment for a patient by calling the hospital or visiting in person is replaced by chatting with the chatbot. Likewise, patients often have a lot of common questions related to health that don't really need a doctor's visit. If all their general questions are asked via chatbot then the need to see a doctor would be reduced to half. 
This proves to be really beneficial for those who are physically challenged and those who don't have much time to visit the doctor. Moreover, when patients receive professional medical help right from the comfort of their home, it creates a compelling impression. The healthcare brand gets recognized for its sensitivity towards the patient's needs. With information being readily available than ever before, patients Google their symptoms and go into the panic mode. They assume that they have contracted some disease without proper diagnosis. Chatbots save them from this havoc by instantly answering their questions. The cases that need diagnosis can then be taken up with the doctor. Thus, there are various possibilities of incorporating a chatbot in the healthcare industry.
Chatbots for leveraging the power of SMS
This chatbot use case is not restricted to any industry, as various industries can make use of it. For the longest time now, we have noticed the surge of a myriad of communication channels. From messaging apps like FB Messenger and Telegram to social media apps like Instagram that have a texting option. There are various ways in which businesses can connect with their target audience. But SMS remains to be a widely used platform that is still relevant. The best part is that it is used by even those who don't have a smartphone. Using an SMS Bot, a business can automate conversations with potential and existing clients. It is just like a chatbot but on the SMS platform. Unlike other platforms, users still read 90% of the SMSes that they receive. This translates to a lot of opportunities to convert potential customers to loyal customers.
For instance, if your online activewear store is having a special discount offer, it can inform the customer with the discount and website link. You can provide an early bird discount for them that is personalized and conveyed through an SMS. If interested, the customer can respond so that you reserve a slot for them. And just like that within a few minutes, the customers can make the most of their shopping experience without any pushy advertisements or campaigns. Such is the power of chatbot engagement.
Chatbots for enhancing PPC campaigns 
Chatbots can be instrumental in boosting the PPC campaigns for various industries. Businesses work hard to create Pay-per-click (PPC) campaigns that drive traffic to their landing pages. While the campaigns can be challenging to curate, it is also tough to engage customers once they are on the landing page. Chatbot use cases are incredibly helpful in interacting with the customers that land your page and convert them. It qualifies the leads by asking relevant questions so that you can nurture them further and sell your products/services. 
Essentially, the chatbot is readily available for chat 24*7 even when your customer support team is fast asleep. Moreover, you can always leverage the Human + Bot model which automates the initial conversations with the customers. And the moment they wish to get help from a human, your bot can map them with a support executive. This makes sure that you utilize your resources well while delegating redundant tasks to the bot. Hybrid.Chat is one such platform that swears by the Human + Bot model to provide amazing results.
Conclusion
Chatbots can be extremely helpful in a myriad of industries and functions. They have already been used for boosting customer service and sales and new use cases keep coming up each day. Soon enough, chatbots are going to be an integral part of client communication as well as a part of internal processes. The predictive and sentiment analysis is going to make chatbot use cases function even better in the future. It majorly streamlines processes and saves a lot of time and money for the business.
Would you like to engage customers through an interactive chatbot? Try Hybrid.Chat and you will not regret your decision!