The Integrate Section
Integrate with your favorite apps to augment the Conversation Flow.
The Integrate Section of side panel consists of all the advanced blocks that you might need in order to perform the most complex actions in the Conversation Flow.
This part comprises 4 major segments. Let's go through them one by one, if you want to read in detail click on read more for each block description.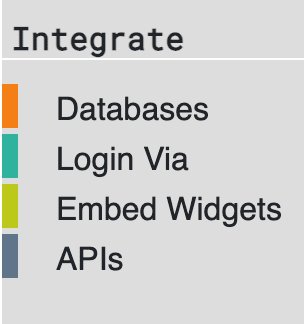 Database: Store or Retrieve data from MySQL, Google Sheets, or Airtable
Login Via: Authenticate Users within the Conversation Flow using OAuth 2.0
Embed Widgets: Load Iframes or embed 3rd party widgets.
Query an API: Configure an HTTP request and submit it to an API Endpoint/Server.