Giving personalized and easy-going services are the next big thing for online businesses. When prospects visit sites, they look for quick access to desired information without having to wander here and there. On the contrary, websites inadvertently make finding this info tough to find. But, would you, as a business, expect your prospects to go through several web pages to get what they want? The answer is a big no! Customers, these days, expect direct interaction with businesses. Moreover, this communication is perfect for building relationships with customers in addition to solving their issues. This is where Conversational Marketing comes into the picture.  In this article, we will discuss the potential of live chat and chatbots in marketing. 
What is Conversational Marketing and how it can help businesses scale their customer services?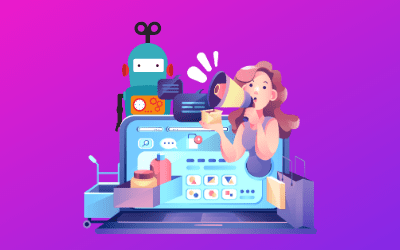 Conversational marketing is nothing but establishing direct online channels of communication with customers. It is a feedback-oriented approach to marketing which enables businesses to interact with their customers one on one.
Therefore, conversational marketing supplements and boosts user's experience about businesses. It enables customers to directly talk to companies, share their concerns, ask questions or avail services. Hence, we can say that it breaks the communication barrier that traditionally exists between online businesses and their customers.
The significance of customer experience in the online environment has made conversational marketing a must-to-leverage marketing tactic. Fortunately, it is well coordinated with the advancement of technologies like live chat and chatbots. These new-age techs help in bringing about a new, personal, and instant channel of communication between businesses and customers.
What is a Chatbot?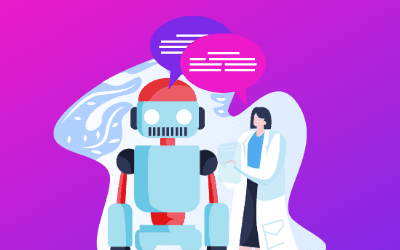 Chatbots are AI-based applications that power a chat feature on websites or landing pages. They stimulate customer-business interactions based on pre-programmed responses to queries. With the backing of AI, the definition of chatbots changes. They aren't anymore just a simple chat feature that takes up fact-based questions. They can now understand written text formats and answer queries accordingly. Additionally, AI-powered chatbots learn from past conversations to improve future conversations. This makes chatbots an excellent asset for online businesses. 
Importance of Chatbots in Marketing
Chatbots in marketing can be used to scale customer experience multifold because of the following features: –
 24*7 Availability:

The major drawback of having only human agents as customer service specialists is their availability. The integration of chatbots in the customer services module makes your businesses live for customers round the clock breaking time barriers. 

Instant Response:

Did you know that the average response time for customer service requests on social media is 10 hours? And the average email response time is 13 hours!

Chatbots in marketing have

response times 100x faster than any other digital service channel. 

Saves time and effort of human agents:

Chatbots supplement the work of human agents by taking care of all the simple questions which don't require human intellect. This saves time and effort of human agents to take care of complicated queries effectively and efficiently. 

Uplifts brand image:

C

hatbots in marketing, excel at being

programmable to communicate the right brand message. They can be trained as per the requirement and maintain consistency of communication across all platforms and user-bases. Businesses can now control what message they deliver to their prospects and how they deliver it. As they say, "To err is human," but in business, that's one hot lead missed. Hence, the flexibility to personalize chatbots not just for customers but also for businesses is a desirable feature.

Automates functions: Chatbots in marketing

can be used to automate tasks that users traditionally have to carry out to avail services. The chatbots can make bookings or appointments, order cabs, and other such tasks. This boosts the user experience of the website and decreases the bounce rate. Additionally, providing users with uniquely interactive experiences can delight them, even converting them into loyal brand ambassadors. 
What is Live Chat?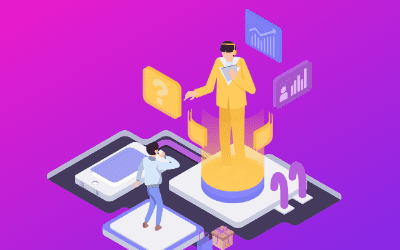 Did you know that 42% of online customers consider live chat as their number one digital communication method? Live chat is a feature that allows the customer to chat live with customer service experts over text message and facilitates live communication. The most significant benefit of having a live chat feature is the human touch. It is an actual person interacting with prospects or customers. This means no matter how complex the question is, businesses can assure that they are taken care of in the most empathetic manner. This is how live chat feature compliments chatbots and go hand-in-hand. 
Importance of Live Chat in Marketing
The live chat feature brings about a personalized touch to the user's buying journey by being the go-to feature to solve real-time queries. Some  functions of Live Chat are as follows: 
Increase in conversion and sales:

Isn't this the crux of all marketing activities? As per studies, businesses that use a live chat feature on their website see a 20% rise in conversions and sales in comparison to those who don't. Usually, prospects have several queries while they explore products or services. Moreover, addressing queries in real-time is possible with Live Chat. It gives the right opportunity for companies to pitch their product and take the prospect by the hand and help them overcome the hurdles in their buying journey. 

Reduction in support costs:

Traditionally, customer service experts take care of both calls as well as emails but only one at a time. With the live chat feature, customer service experts can handle around 5-6 simultaneous chats at a time which reduces the cost of having several such experts. 

Building credibility among customers:

In offline purchases, the sales executive gets a chance to build rapport with customers and guide their buying journey. However, the only lacuna of having an online business is the lack of personal touch with the customers. Plus, customers always feel skeptical about buying products from unknown online companies because of a lack of credibility and electronic presence. 
How Can Live Chat Help?
Live Chat removes all these lacunae by enabling businesses to bridge this gap between online and offline purchases. Additionally, customer service experts can live chat with customers, build rapport and trust, and help them feel comfortable with the business. 
Keep in Contact with Prospects:

Live chat feature allows businesses to collect the contact information from their prospects and use it for promoting their products in the future. It is quite evident that every prospect does not turn into a customer. But by collecting their email ID or phone number, businesses can touch upon them with email marketing campaigns. Sending them the latest updates, promotional offers or discounts, and sending personalized messages, all help in building relationships with customers. Additionally, as per stats, 63% of prospects return to a website that offers a live chat feature.

Boost Website Experience:

Did you know that 57% of customers abandon a purchase if they don't get timely answers to their queries? With the live chat feature, prospects don't need to break the buyer's journey to ask a question through call or email. They can directly make use of this feature to get answers to their queries quickly. In fact, 44% of online customers consider this as the most essential feature of a website. 

Understanding Customer Needs: Live chat in marketing

enables businesses in understanding the buyer's needs and provide the right solutions for them. It becomes a platform to collect the Voice of Customer (VOC) data which enables businesses to see their business from the user's perspective and upgrade accordingly. Moreover, companies that make use of VOC data enjoy a ten times greater year-over-year increase in annual revenue. 
The Bottom Line
Integrating the latest technologies in business operations enable brands to tap into unexplored areas. Features like live chat and chatbots act as a supplement to other marketing initiatives. While other marketing initiatives attract customers to visit a website, such customer service features help in closing the deal by delivering timely and good user experience. 
Hybrid.Chat is the best Chatbot augmented Live Chat solution out there! Get started with building one for your business, here. Or, check out what else chatbots can do, here.